Casadio Undici A2 is one of the most popular coffee machines in Kathmandu, used by numerous coffee shops, restaurants, hotels, and so on. Casadio Undici A2 Reviews are generally positive, all thanks to its outstanding features. The machine is an all rounder, and an ideal one for all kinds of businesses that offer beverages. Conducting a Casadio Undidi A2 review is the best way to properly analyze this machine and its advantages.
About Casadio Undici A2
Unidici A2 from Casadio is an automatic espresso machine. What makes this Italian coffee maker quite unique is the microprocessor that is installed within the machine. The espresso machine boasts of 2 group heads, 2 steam wands and 1 stainless steel multidirectional hot water wand. The machine also uses a fixed nozzle thermosyphon system, and has 4 coffee selection push buttons with LED lights. The espresso machine is available in colors such as black, red, white and stainless steel. This Italian coffee maker has a boiler capacity of 10.5 liters. It has a dimension of 716 (width) x 528 (depth) x 529 (height), and its weight is 50 kg.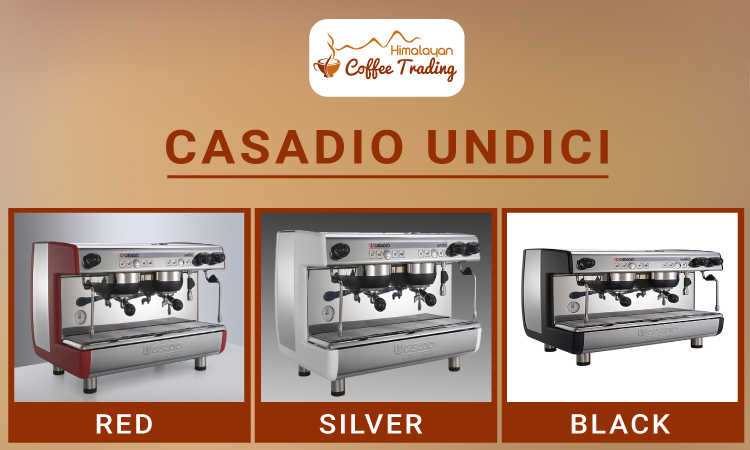 Casadio Undici A2 Review
To conduct the Casadio Undici A2 Review, first we need to look into the features of the machine, and analyze how they make the coffee machine better than others. One of the most crucial features of Casadio Undici A2 is that it is equipped with a microprocessor. This attribute allows the barista to program the machine to prepare and dispatch different kinds of coffee based drinks., which shouldn't be much of a problem since it is a traditional automatic machine.
Another set of features that have helped the Casadio espresso machine review to be positive are the number of group heads, steam wands and hot water wands. Their numbers are 2, 2 and 1 respectively. With so many heads and wands, the barista is capable of working on numerous coffee drinks all at once. These features allow the barista to be efficient and serve multiple customers at the same time. Of course, only a skilled barista can use them in the right way.
One of the reasons why Casadio espresso machine review is generally positive is because of its fixed nozzle thermosyphon system. The system is present in most of its automatic espresso machine models. It allows the water inside the machine to heat evenly, and quickly. Also, with the coffee selection push buttons, altogether 4 in number, the machine can dispense 8 different types of coffee drinks at once. The buttons are LED induced so that visibility is never an issue.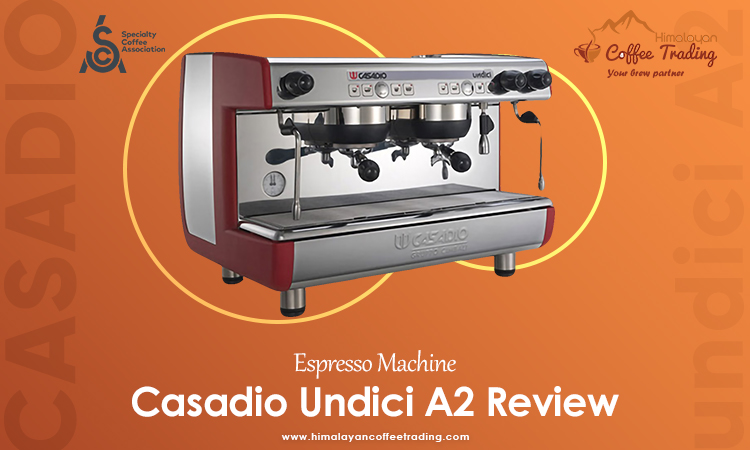 Casado Undici A2 Review are generally positive also because of its build. Weighing in around 50 kg, it is a strong machine. It has a body made of stainless steel. A strong build makes the machine last long, and serve the users for years to come. The durability also allows the machine to be operated for long hours, which is especially beneficial for a coffee house that remains busy throughout the day, or has customers lined up to get that perfect cup of espresso.
You're bound to give a positive Casadio Undici A2 Review also because of the colors that it is available in and the design. It has a sleek design, and is available in colors such as red, black, white and stainless steel. This means that you can choose your favorite one, and can buy a machine that suits the color scheme of your interiors. All the efficiency features mentioned above is well supported by its outstanding boiler capacity, which is 10.5 liters in total.
Casadio Undici A2 Cost
Coffee machine price in Nepal depends on various factors such as the brand, the quality of coffee machine, the build, the features, and so on. Coffee machine price in Nepal could go from Rs. 2 lakhs to 14 lakhs, and even further. Coffee machines are priced so much because they are designed to produce the best quality espresso that matches the international standards. Of course, the taste of coffee depends on the quality of coffee beans, the skill of the barista and the coffee making process as well. But all of this makes no sense without the right coffee machine.
Casadio Undici A2 Cost is Rs. 4,70,000, and it is one of the moderately priced coffee machines in the context of Nepal. Considering all the features that the machine offers, Casadio Undici A2 Cost can be considered nominal. This machine is an excellent choice for a barista, and a coffee shop, if he's looking to produce amazing quality coffee, with relevant ease.
Altogether, Casadio Undici A2 review is a positive one, as it is an espresso machine that is perfect one from all angles. Whether you consider looks, functionality, efficiency, durability, or any other factor, the machine stands out from its counterparts. Even from the angle of affordability, it is a great machine to have in a coffee shop. It is for a reason that the machine is preferred by so many coffee houses, and that Casadio Undici A2 reviews are excellent.
Himalayan Coffee Trading offers products such as high quality locally grown coffee beans, coffee machine accessories from top brands, imported Italian coffee machine in Nepal and barista training in Nepal. The company started as an organization that simply created awareness about the difference between organic and instant coffee. Currently, it offers all the above mentioned products and services. One of the reasons why you'd want to buy their products is that they also offer support services. Also, if you're not quite sure how to operate the coffee machine in Nepal, they'll offer you a short training absolutely free of cost. If you're looking to establish a coffee house, or you love coffee so much that you need the tools to prepare them at home, consider buying the coffee beans, coffee machine accessories and coffee machine in Nepal, offered by Himalayan Coffee Trading. Also, if you're looking to learn the art of coffee making, go for the barista training in Nepal offered by Himalayan Coffee Trading.