A blender is a very crucial machine for any coffee house. Coffee based drinks are not just served hot, but cold as well. And to prepare these cold, coffee based or other sorts of beverages, it's a must for a café to have a great quality and high performing blender.
To crush ice for cold coffee, to puree fruits for smoothies, and to blend cream for making its consistency thicker, a blender is a must. Now, there are so many varieties of blenders available in the market. These blenders are offered by various international brands. One of them that has been gaining tremendous popularity over time is JTC TM-800 Omniblend V.
JTC Blender is used by many café and coffee houses these days. It is considered as one of the best performing blender out there. So, in this blog we're going to conduct Omniblend Blender Review.  This JTC Blender Review will determine for sure, whether it stands up to its mark or not.
Want To Buy Best Espresso Machines?
If you are looking for Espresso Machines, we are here to help you.
Enter your details below
About JTC TM-800 Omniblend V
JTC TM-800 Omniblend V is a product from JTC Electronics Corp, which is a Chinese company based in Guangdong, China. The company is a leading manufacturer of blenders in China, and across the world. JTC Omniblend is one of its most popular and demanded blending machines all across the world.
The machine is known for his innovative technology, high performing ability, durability, and user-friendliness. JTC Blender is the choice of numerous restaurants, bars, coffee houses, cafés, ice cream parlors, and so on all over the globe.
Features Of The Machine
JTC Blender can be used to perform multiple operations.
It has a premium quality, transparent and virtually unbreakable container, and a stainless steel two in one cutting unit. The blender can be used to crush dry ingredients and blend wet ingredients. With its precision technology, and industrial high speed motor, it can crush tough ingredients like ice in seconds.
The machine also features 35, 60 and 90 second one-touch auto timer. It provides four modes of blending speed- high, medium, low and pulse.
The machine looks elegant, with its state-of-the-art electronic design. It is available in four colors – grey, white, black and red.
Functional Area And Performance Of The Machine
JTC Omniblend features a great quality, transparent and practically unbreakable container, which means that users would be capable of making puree of tough fruits like apples, pears, guavas, and so on. The blender can also be used to crush ice to a coarse or fine consistency.
The blending is further made effective by its stainless steel two in one cutting unit, and its industrial high speed motor. The container, the cutting unit, and the motor work together to allow the user to crush, puree, or blend ingredients of different consistencies.
The one touch auto-timer adds that automatic appeal to the machine. Using this feature the users can keep the blade running for a maximum of 90 seconds, and at the end of it, the blade will stop automatically. Also, the user can control the speed of the cutting unit; they can make it really slow or really fast, as per their need.
Convenience With The Machine
JTC Blender allows the user to prepare different kinds of smoothies and drinks, as it can blend almost all kinds of fruits. The user is allowed to use all his creativity and imagination to prepare the drink of their choice.
The visibility of the container allows the user to keep an eye on the consistency of the blended ingredients. They can stop the blending process if they feel like it's over blending, and vice versa. Also, the blending speed modes let the user keep the consistency of the ingredients at check.
Due to the auto timer, it's not required for the user to be by the side of the machine at all times. They could simply put the timer on, and at the end of the set time, the blending would stop.
Since the blender is available in four colors, the user can choose the one that best suits his personality. Its amazing design is sure to contribute positively to the aesthetics of the place.
Want To Buy Best Espresso Machines?
If you are looking for Espresso Machines, we are here to help you.
Enter your details below
Accessories Available With The Machine
JTC Omniblend comes only with a manual. No additional accessories is provided with the machine. However, you could always purchase accessories such as Americano and Cappuccino cups, shot glasses, whipped cream dispenser, and so on, at an additional cost. They are sure to enhance your coffee making and drinking experience.
Support And Warranty Offered With The Machine
The company offers one year of warranty with the machine, on repair and replacement of parts. So, within one year of purchase of the machine, if the machine needs to get repaired, or any parts need to be replaced, it will be taken care of free of cost.
Also, the company offers unlimited support. So, if you find any problem operating the machine, you could call them and ask for support. After purchasing the machine, the customers are offered free training on how to operate the machine and keep it well maintained.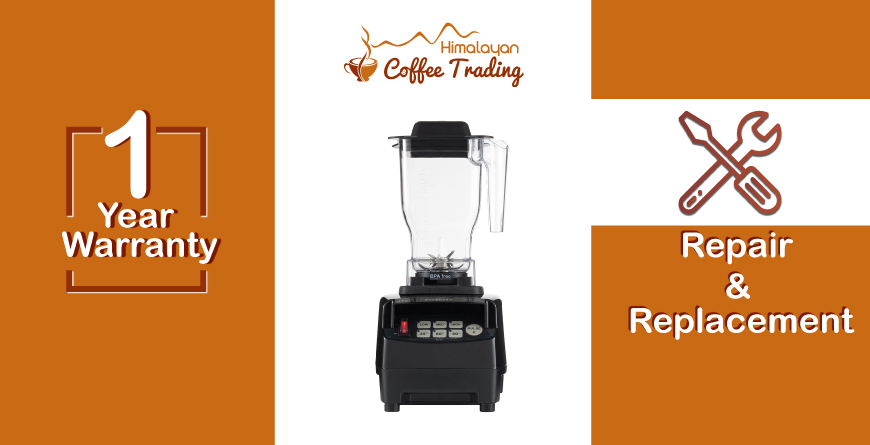 So, to conclude this Omniblend Blender Review, what can be said is that JTC Omniblend is truly an amazing blending machine that is capable of performing all kind of blending related functions. This JTC Blender Review has helped us determine for sure that JTC Blender is the best for all kind of cafes, coffee houses, or other places offering cold beverages. The machine is also fit for homes, as it is multitasking, and allows the family members carry out all kind of blending related works with ease and comfort.
If you want to buy world renowned brands of coffee making machines, and the best quality locally grown coffee beans, Himalayan Coffee Trading is the best option for you. Himalayan Coffee Trading started as an organization simply informing people about the differences between instant coffee and organic coffee. Currently, it sells all these amazing products at its showroom. Himalayan Coffee Trading also provides professional coffee making trainings to individuals who want to learn the art, and have the dream to become expert baristas and work in the field.
Want To Buy Best Espresso Machines?
If you are looking for Espresso Machines, we are here to help you.
Enter your details below