There are three main factors to making a great cup of coffee – the quality of coffee beans, the barista, and finally, the coffee machine. Coffee houses seem to get this fact very well, and so, they make sure to get the best coffee beans, the professional barista, and of course, a state-of-the-art espresso machine. One of such espresso machines, preferred by many cafes, is CASADIO UNDICI Espresso Machine. Considering the machine's preference, in this blog, we're going to conduct CASADIO Espresso Machines Review. We are going to analyze its features, functionalities and other attributes to determine whether it's up to the mark or not.
Overview of CASADIO UNDICI Espresso Machine
UNDICI Espresso Machine by CASADIO is one of the latest high performance coffee making machines, among CASADIO Espresso Machines, in the market. Most cafes and coffee houses tend to use this coffee machine, and their Baristas often claim that coffee made using these machine is quite exciting.
It has gained tremendous popularity in the market, among coffee houses, cafes, and homes alike. Its features and functionalities like compact size, user friendly, low maintenance, durability, and sleek design and so on, make it a machine ideal for both corporate office, coffee business house and homes. Probably, these are few of the reasons for its rising trendiness.
Features of the Machine
CASADIO UNDICI Espresso Machine is available in two models – CASADIO UNDICI A1 ,S1 and CASADIO UNDICI A2,S2. Both models come with steel and aluminum body, which makes them look elegant and stunning.
UNDICI A1 has a dimension of 432 x 592 x 570 (mm) and UNDICI A2 has a dimension of 792 x 598 x 570 (mm). The machine has got an innovative, powerful and high performance fixed-nozzle thermosiphon system. It's got a new selection panel with four LED mechanical buttons, and a stainless steel multidirectional steam wand.
The machine comes with group heads, hot water dispenser wands and limited boiler capacities, five liters in case of UNDICI A1, and ten liters in case of UNDICI A2. The machine is available in black, red, silver and brown colors.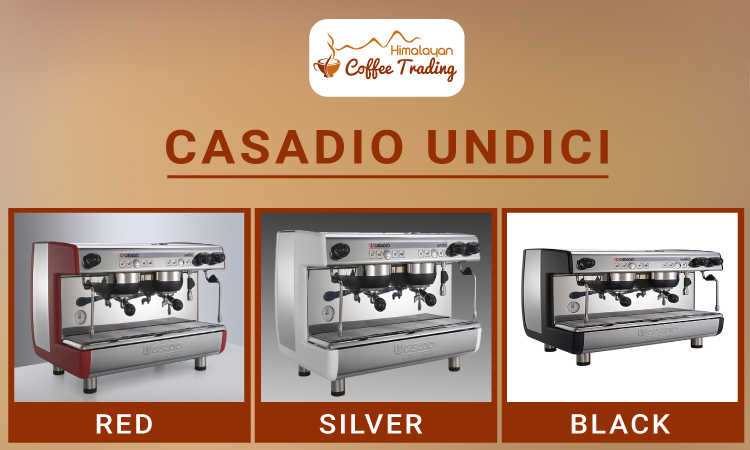 In addition to the above mentioned features, minor changes can also be made to the machine to adjust and modify it as per barista's preference.
Functionalities of the Machine
The build of the machine makes it durable, fit for extensive work, and last for a long period of time. The dimension of the machine makes it quite a compact and sleek product in the world of coffee making machines. Their small size also makes it quite easy to be stored, cleaned and maintained.
The thermosiphon system helps to boil and circulate the water inside the machine with great efficiency, resulting in an excellent cup of coffee. The selection panel makes it easy for the barista to make various kinds of coffee with different coffee doses. The multidirectional steam wand allows the barista to prepare coffee with milk, with much ease and speed.
The coffee making process with this machine is smooth and simple. Literally, any Barista can operate them with ease. The modification option makes the machines even more user friendly.
Due to the availability of the machine in different colors, featured options like Automatic and Semiautomatic, customers can also go for their favorite looks while buying the product.
Accessories available with the Machine
Apart from the main espresso machine and CASADIO Espresso Machines Manual, CASADIO UNDICI Espresso Machine doesn't offer any accessories. However, the customers can buy accessories such as shot glass, blender, grinder, whipped cream dispenser, pitcher, cream charger, thermometer, and so on to enhance their coffee making experience.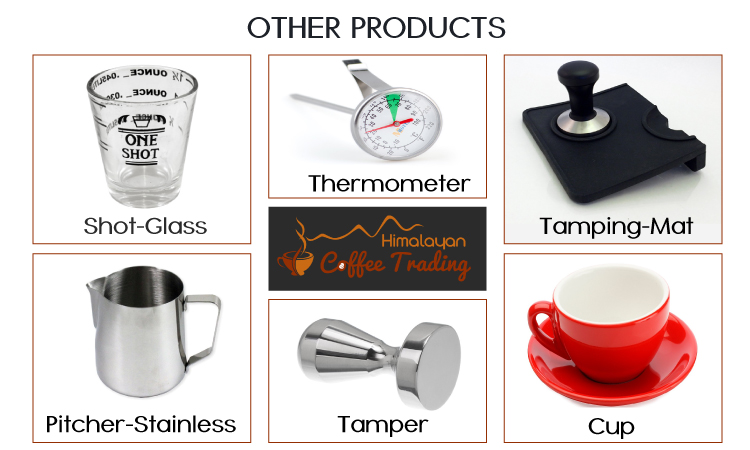 Want To Buy Best Espresso Machines?
If you are looking for Espresso Machines, we are here to help you.
Enter your details below
Convenience with the Machine
UNDICI Espresso Machine is quite an amazing product for making great coffee. The machine makes the best use of the ingredients and the skills of the barista to make coffee that tastes great, looks good, and is quite refreshing.
Due to the size and user friendliness, it is suitable for use at homes and as well as at coffee houses and cafes. The machine is also quite easy to install and clean, with not much maintenance required.
For users, who are not experienced baristas, CASADIO Espresso Machines Manual is provided with every system to make it further easy for them to handle the machine. CASADIO – UNDICI Espresso Machine aims at offering the best coffee to the consumers, whether they're at a café or at corporate business house.
Support and Warranty offered with the Machine
The machine is offered in Nepal by Himalayan Coffee Trading Pvt.Ltd, and it offers one year of free servicing, and spare parts replacement warranty. The company offers unlimited support service to its customers, free one set espresso machine accessories, regular monthly servicing, on call visit, free delivery all over Nepal in road access area, help to set coffee menu, which includes free one complimentary Barista training on how to use the machine, given at the time of purchase and installation.
Machine Comparison: CASADIO UNDICI A1 vs. CASADIO UNDICI A2
While both are excellent coffee machines in the line of CASADIO Espresso Machines, CASADIO UNDICI A2 is a bit more superior version than CASADIO UNDICI A1. CASADIO UNDICI A2 has two group heads, two multidirectional steam wands, and boiler capacity of ten liters, which gives it an edge over CASADIO UNDICI A1, which has only one group head, one multidirectional steam wand, and boiler capacity of only 5 liters. In a coffee house that receives a very high number of coffee drinkers, the barista might find CASADIO UNDICI A2 much helpful, as it can produce coffee twice as fast.
However, apart from these features, the others are more or less the same in both the products. The additional wands and dispensers make CASADIO UNDICI A2 bulkier than CASADIO UNDICI A1. With a dimension of 792 x 598 x 570 (mm), UNDICI A2 is bigger than UNDICI A1, which has a dimension of 432 x 592 x 570 (mm). This makes the former one a little more difficult to store, clean and maintain than the latter one.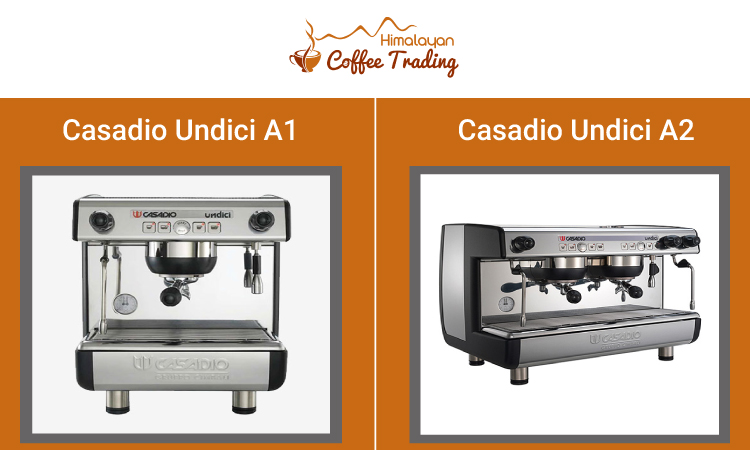 So, to bring this CASADIO Espresso Machine Review to an end, what can be said is that CASADIO UNDICI Espresso Machine is a great coffee making machine. It offers users everything that is required to make a great cup of coffee, quickly and with ease. So go on, and try it out. You're sure to get habituated to using it.
Himalayan Coffee Trading deals with two renowned Italian brands CASADIO & FAEMA espresso machine and coffee beans in the country. It started as an organization creating awareness about the difference between organic brewed coffee and instant coffee. The coffee machines and coffee beans offered by Himalayan Coffee Trading are preferred and used in many cafés, offices and homes all around Nepal. Go for Himalayan Coffee Trading for all accessories for coffee bar, the quality coffee beans, and the greatest brands of coffee machines.
Want To Buy Best Espresso Machines?
If you are looking for Espresso Machines, we are here to help you.
Enter your details below